Your Property Management
Control Room for Life
Property management software to augment you, not replace your books. Manage your rental properties efficiently with real-time technology. Collaborative decision making.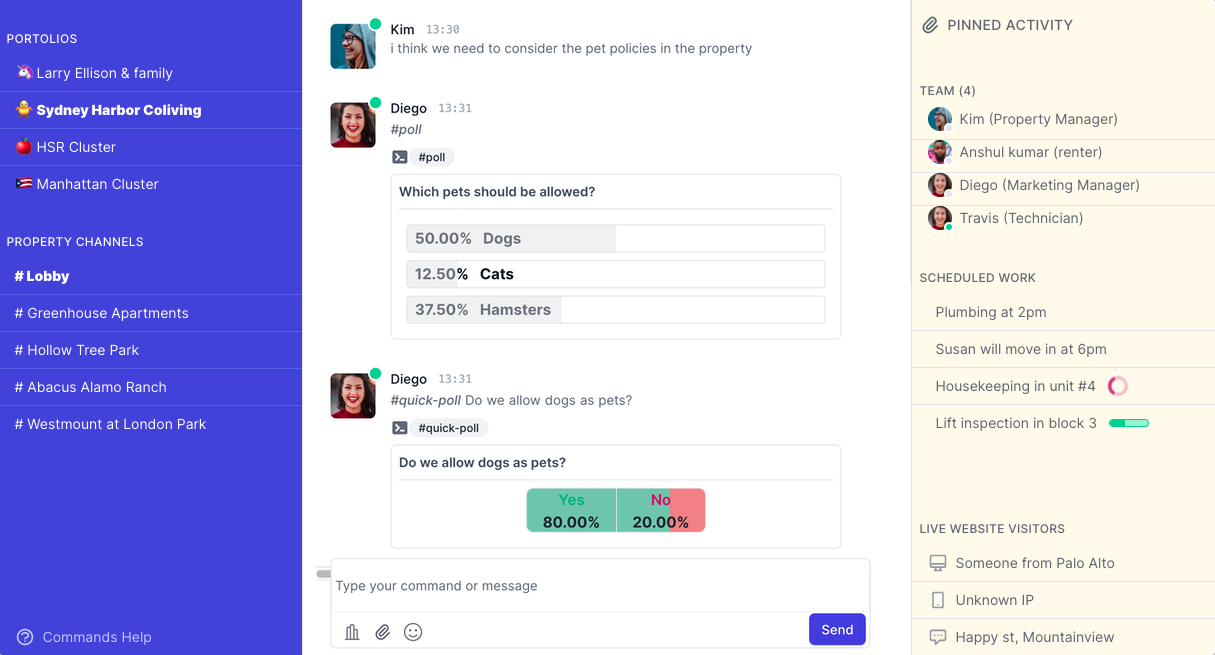 Trusted by new-age property management companies
No Integrations
Core PMS features in One Product
Don't outsource core features of your property management to disparate tools. Integrations are expensive and unnecessary. JumboTiger brings all core features together.
Mobile Inspections
Mobile app for live property inspections, issue management, work order tracking and location reporting.
Self Scheduling
Allow your customers to self schedule showings and property viewings directly from your website.
Contact Center
Manage your vendors and the services they provide integrated seamlessly with issue management.
Notifications
Your customers use different communication modes. JumboTiger knows these preferences and notifies appropriately.
Omnichannel Inbox
Respond to SMS, Voice, WhatsApp, Facebook Messenger, SMS and many more on one platform.
Manage leads, build a professional website, chat with prospects, build a pipeline and convert them.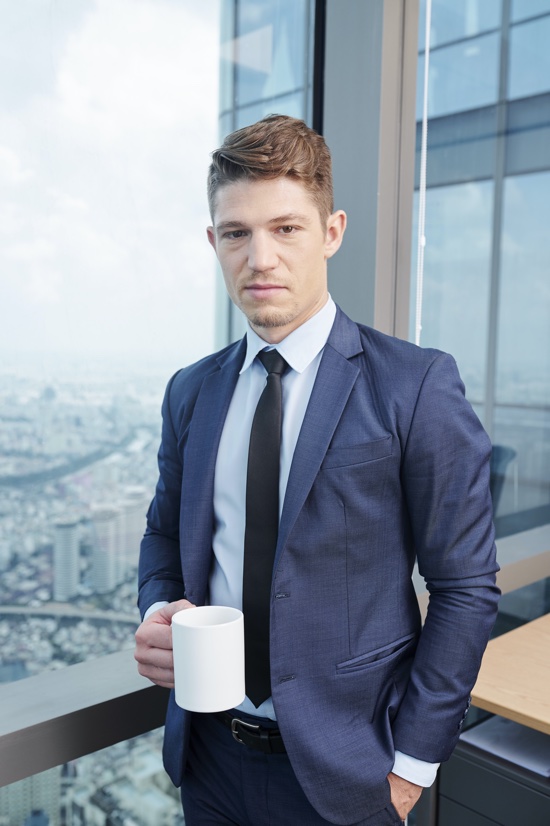 I have known these guys from their SimplyGuest days. They are responsive and open to input to help make their product even better. I highly recommend them!
Built-in Apps
Don't let your data sit in silos and hinder your decision making ability. JumboTiger replaces Slack/WhatsApp, Zendesk/Freshdesk, Intercom, Calendly, zInspector/HappyCo, and many other tools.


Powerful Rules Engine
Automate repetitive tasks
Create rules to automatically sort, auto-assign, & prioritize issues. Free up your team for more important problems. know more



















How can automations help your business?
Talk to us.
Your co-living business needs software
Deliver a great experience to your community members with integrated resident engagement tools.
Tools to build community and nurture it
Vibrant co-living communities are more than just a place to stay. They create a sense of belongingness.
Screen community members

Set up tenant application rules for incoming residents. JumboTiger provides powerful tools to design your application flow.

Built-in expense sharing

All expenses are settled as part of the rent invoice. You don't have to chase the flatmate to settle.

Tools for budgeting, events, shared to-do lists

We have built many tools to make living in a shared flat a walk in the park. Our goal is to reduce the conflict points and you can use all that time to socialize and become friends.
Efficiently manage operations
JumboTiger provides modern tools, software, and a professional website to run your co-living and shared living operations efficiently and profitably.
Manage vacancy, bookings, expenses

Don't miss a booking! Easily manage your inventory, vacancies, assets, expenses.

SEO optimized website complete with photos, Google Maps integration, booking and scheduling tools to attract right prospects and convert them to customers.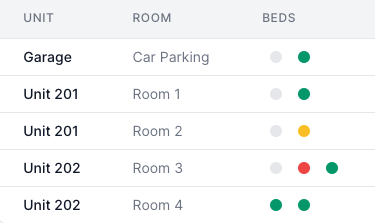 Resident portal for community members
Keeps all resident information and communication in a beautifully designed portal. Tenants can manage community spaces, social activities, pay rent, chat with fellow members in one place.
"I am part of a small self-managed co-living space. We use JumboTiger to self-manage and self-organize our community. "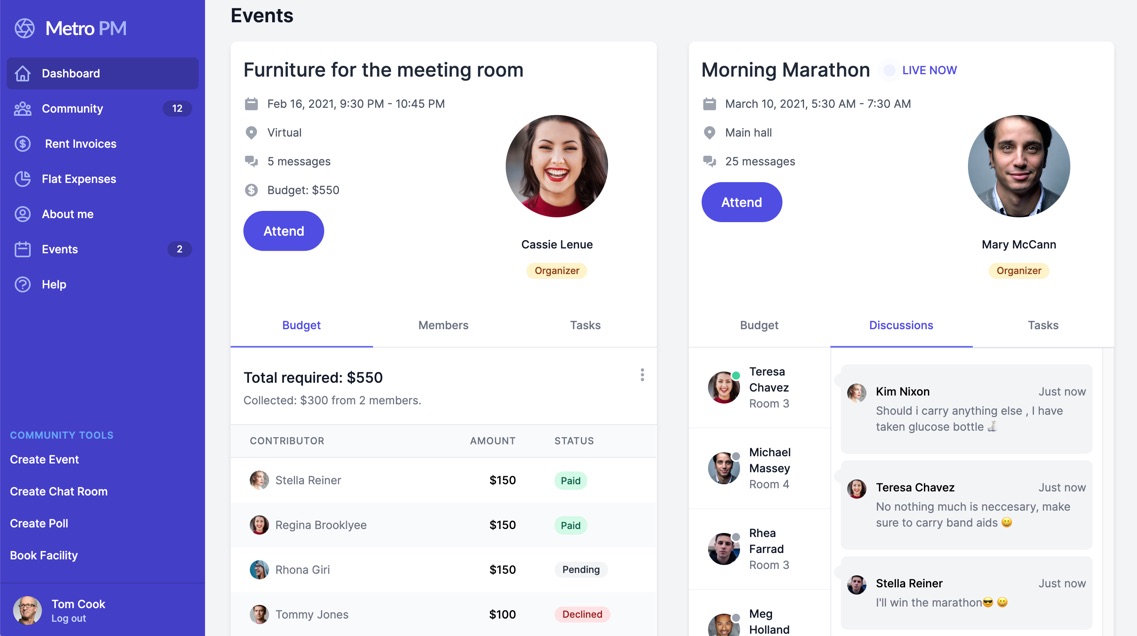 Advanced maintenance tools
Quickly resolve inconvenient and potentially costly maintenance issues. Keep renters happy with self-service options to submit requests.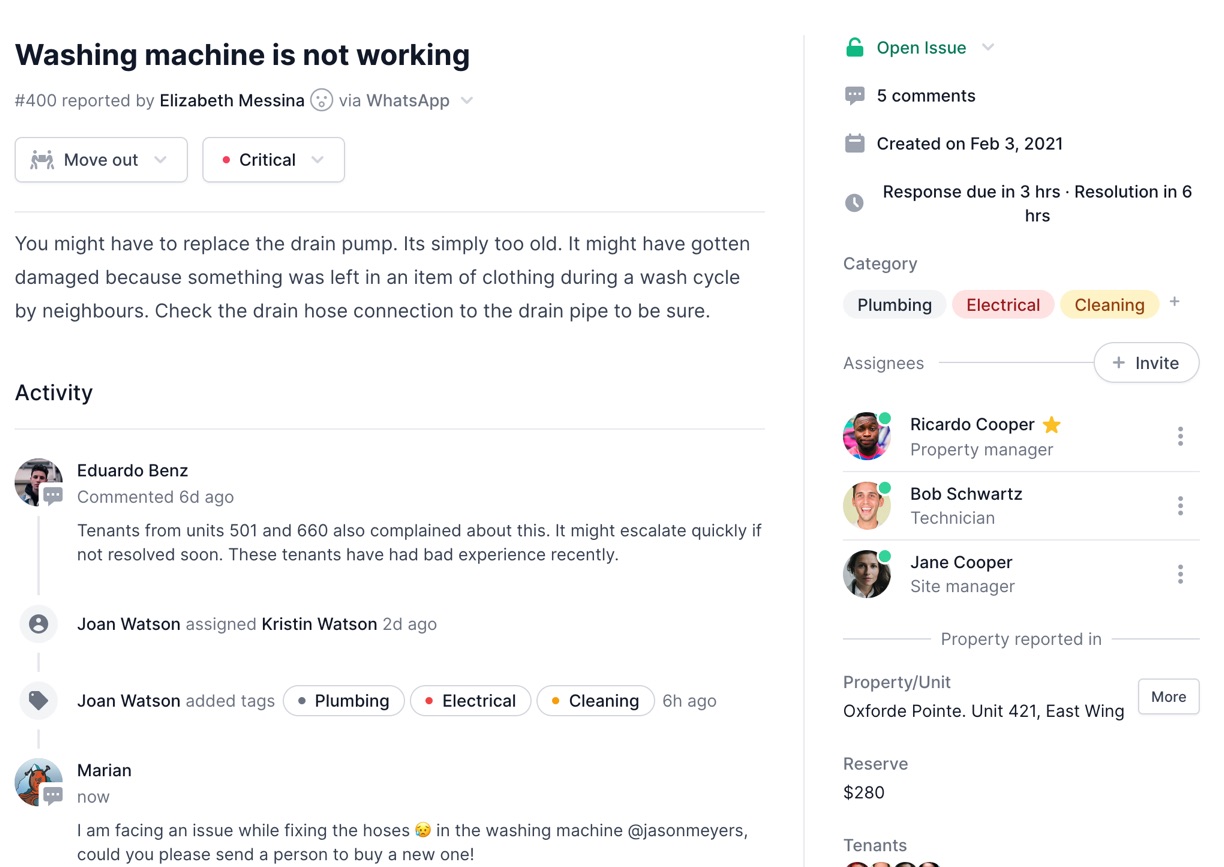 Boost your productivity.
Start using JumboTiger today.
Pick a date time by clicking the button below and we'll show you how you can improve your business.
Schedule a demo
Beautifully crafted property on-boarding flow
We have designed a beautiful step-by-step wizard to help you capture all the data related to your property, and set up the property management in flow. Read more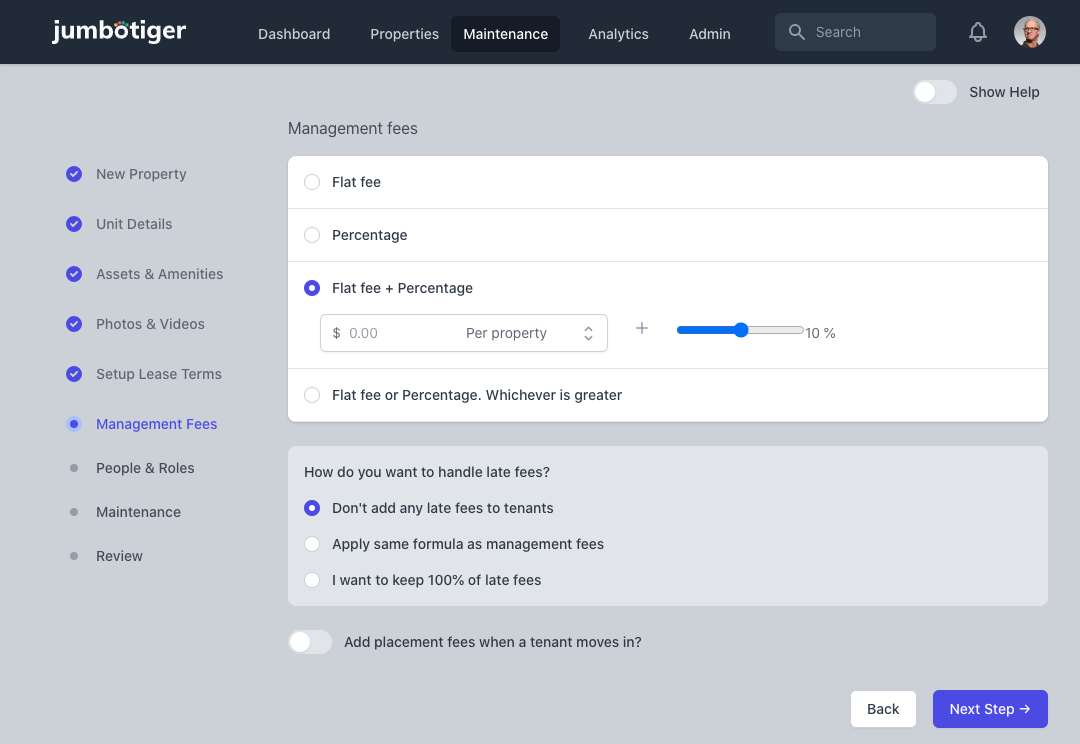 Trial sign ups coming
Sign up to watch how JumboTiger can help you manage your property management or co-living business.
Everything you need
All-in-one platform
JumboTiger comes with all the features and tools that a professional property manager require to run their business effectively and productively. View all features
Online tenant applications

Set up conditions and pre-requisites for your tenants. Online applications will filter them out.

Owner/tenant portals

Your owners and tenants get a modern web-based portal to view information and raise requests.

Payments

Collect all your payments and send out payments. Automate recursive payments.

Contact center

Keep all your contacts and communication across channels in one place.

Effective communication reduces friction with customers. Our notification system is built to deliver the right communication. Know more

Keep track of potential security breaches or internal misuses of information. Pinpoint problems. Know more

Reporting

Interact with your organizational data using beautiful interactive visualizations.

Configurations and Customizations

JumboTiger is completely configurable. You can customize it to suit your needs. Know more